The Ranboen Contract
About The Book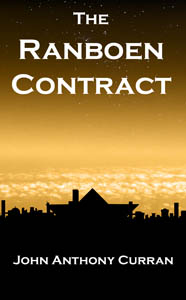 Someone is trying to kill the royal heirs.
For Boris, that's a problem. He's on the isolated planet Dimonah to protect the young Prince and Princess, who are proving to have powerful enemies.
His employers are not aware he's also covertly working for the exiled Hass, but the rebels are suspiciously well informed and it's unclear who he can trust. Keeping himself and the heirs alive may prove an impossible task, yet the fate of a world depends on it.

How to Get it
There's a version that's right for you. Seriously! It's even DRM-free.
Click here for the shiny paperback, currently on special for under $12 US.
Click here) to download the FREE PDF version. (Adobe Reader)
Click here for the $0.99 EPUB version. (Nook, iPad, iPhone, Adobe Digital Editions, etc)
Click here for the $0.99 Kindle version. (Amazon Kindle)
Critical Praise
"A strong action/adventure feel, likeable characters, and a coherent political thriller plot... enjoyably fast-paced... extremely accessible to a general readership as well as science fiction fans." - Driftwood Manuscripts
Author Notes
I write the same kind of books that I like to read. Entertaining stories with an action/adventure feel, featuring likeable characters in a heck of a jam! I strive to create stories the reader will care about. The pacing is enjoyably fast, and I like to throw in enough surprises to keep you guessing. The Ranboen Contract is one of three I've written my Confederation universe, and the first I've published in full. Check it out! It's just as enjoyable for general readership as it is for Science Fiction fans.
You can get The Ranboen Contract in downloadable election formats, or as a convenient pocket size (4.25" x 6.88") paperback on quality 60gsm paper. That size is easy to carry, you won't need a breifcase to take it with you on vacation! It also means it will fit on a standard bookshelf like a decent novel should.
Feel free to email questions and feedback to me at novels@johnanthonycurran.com. I read all mail, and will reply.
Thanks for reading!