Guidance Fault
About The Story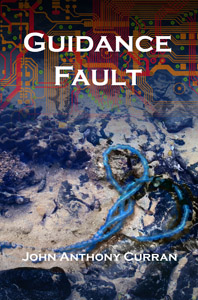 Kiranda Schaef inherited her blue hair from her mother, but the military augmentation of her body has a less pleasant origin.
She's only working for Colonel Collins because he said lives depend on it. He didn't mention hers was one of them. Nor did he say anything about the stolen superweapons, the kidnapped scientist, or the possibility of full scale war.
Through the spies, deception and betrayal, she must find enough truth to survive.

How to Get it
There's a version that's right for you. Seriously! It's even DRM-Free.
Click here for the shiny US Trade paperback, currently on special for under $10!
Click here (or here for instant download) for the completely FREE PDF version. (Adobe Reader)
Click here for the $0.99 EPUB version. (Nook, iPad, iPhone, Adobe Digital Editions, etc)
Click here for the $0.99 Kindle version. (Amazon Kindle)
Authors Notes
Guidance Fault is one of three completed novels set in a starfaring future. If you like an entertainingly fast pace, action/adventure, cyberpunk elements or espionage thrillers, you'll find something to enjoy even if you don't normally read Science Fiction. It's set in the same Confederation universe as The Ranboen Contract, with all-new characters.
You can get Guidance Fault in downloadable electronic formats, or as a US Trade size (6" x 9") paperback on quality 60 weight paper. That size is increasingly common, being the smallest size US book stores will carry. It's the same as half of a US letter sheet, which keeps costs down.
Feel free to email questions and feedback to me at novels@johnanthonycurran.com. I read all mail, and will reply.
Thanks for reading!